Estate sales are a great way to liquidate and sell your vintage items, antiques, and collections for top dollar. Having an estate sale company that specializes in vintage items and collections is very important when it comes to identifying value in older items. There are many ways to look up vintage items and antiques online yourself but often these online sources are inaccurate, misleading, out of date, and flat our wrong.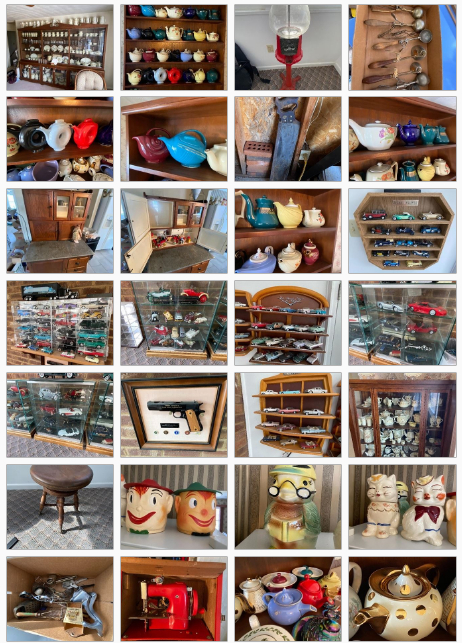 J.W. Holcomb is one of the top Vintage & Antique estate liquidators in the region with over 20 years experience in buying and selling vintage, antique, unique, and collectible items. From old tools, advertising items, old signs, railroad items, old toys, Jewelry, coins, Ephemera (Old Paper), Glassware, Furniture, and a lot more, J.W. Holcomb has seen it, and sold it. There are not many local resellers like J.W. Holcomb that have worked in the industry daily non-stop 12+ hours a day learning about vintage/antique items and their values. By working hundreds of local and nationwide estates the experience and knowledge is there. There is a science to estate sales and JWH (RoanokeEstateSales.com) has perfected it. By driving hundreds of local buyers and shoppers to sales and strategically displaying and pricing items, JWH gets clients the best value for their estate as a whole and shoppers get deals and keep coming back for more.
Having a local estate sale is not like selling something on ebay or online. When you sell online you are selling to a global or nationwide market and your local market will be a lot different. In some cases you may get more money online and in some cases you will get less or be presented with risks that you would not have if you were selling hand to hand at a local estate sale. Some of those risks include Returns, Chargebacks (Theft), Breakage/Damage in shipping, Shipping Burden & Costs, Payment Fraud, Fraud, Scammers, and more. Selling to a local market using an estate sale is a great solution because you WILL get top dollar and value for your items and you will sell items at an estate sale that you could never (or easily) sell online. When you have an estate sale  everything usually sells. Items worth $5 and under are not worth selling online but at an estate sale you can sell hundreds of these lower end items all in one weekend. Furniture gets sold at estate sales and it troublesome to sell online. Gold, Coins, Jewelry can sell easily at estate sales for more than online and A LOT safer.
Thinking about having and estate sale? From consulting, pricing, management, and clean-out – We can help – contact us today.