Upcoming Estate Sales in Roanoke VA Area
Salem VA Estate Sale – Huge Collection 
Link to sale listing: https://www.estatesales.net/VA/Salem/24153/2688558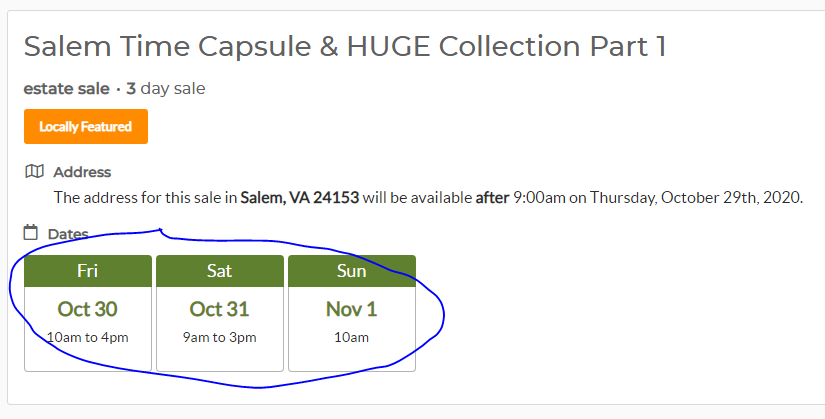 Address: 518 Parkdale Dr – Salem VA 
This is it! One of the big ones! We will need to have 2 separate sales to display and show the items in this estate. This estate has a house full and 4 large storage buildings FULL of vintage items, toys, antiques, collectibles, tools, die cast cars, 80s Toys, Sports Cards, Hotwheels , Slot Cars, old books, old board games, Metal Toys, Pocket Books, Vintage Clothes, Coins, Jewelry, Smalls, and  tons of great items. TONS OF HOT WHEELS and Toys – And Just Added Hundreds of New in Bo Christmas Decorations!
This is a huge accumulation sale one of the biggest collections I have seen in the past few years. Decades and multiple generations of toys and old items! Something for everyone here!! If you are a reseller or ebayer, bring a truck! There are so many opportunities here for resellers! You don't want to miss it.
We will be having 2 sales, each with unique items – we will sell and get rid of everything at the first sale then have another sale (2 weekends After)  jam packed with different items from the storage buildings! 2 sales! Plus opportunities to buy in bulk from storage units!
Tons of sports cards and sports memorabilia – And Thousands Of Hotwheels and die cast cars in the package.  
What we know is there so far: 
Vintage Toys / 70s/80s Toys
Character Glasses
Pop Culture Items
Hundreds of New in Box Christmas Decorations and Ornaments
Sports Cards & Sports Memorabilia (Tons) Baseball, Basketball, Football, Hockey.
Starting Line Ups 80s-90s – Key players All Sports!
Hot Wheels/Matchbox: Thousands Of Mint in Package Hot Wheels (TREASURE HUNTS) and Other Diecast
Coins – Silver Coins, Old Coins, Coin Rolls, Coin Sets, Loose Coins
Autographed Sports Items
Local and Nationwide Hockey Memorabilia and Old Hockey Sticks/Pucks
Old Book – Zane Gray Collection – Westerns – Vintage/Antique Books – Cookbooks and more.
New/Like New Holiday and Christmas Decorations
Vintage Christmas Decoration
Disney – Mickey Mouse Items
Vintage Pocketbooks – New Pocket Books – D&B, Vera B., Coach, and many good brands.
Pocket Knives, Gun Books, Holsters, Ammo, Tools
A few pieces of Furniture, Curio Cabinet, China Hutch
Military Trunks, Chests, Items, Photos
Old Vintage Electronics, Atari, Stereo, Components, CB Radio, and more.
Old Suitcases, Old Hats
LOTS OF OLD RECORDS – 45s, Albums, 78s  
Contact Us If You Are A Bulk Buyer Of Hot wheels or Sports Cards 
Click Below For All Pictures