This is a massive estate sale overflowing with great stuff!
Living Estate Sale of Dr. Robert (Bob) E. Berry for the purpose of downsizing a lifelong collection of eclectic vintage, eastern, and worldwide decor among other whimsical and hard to find treasures, furniture, collectibles and trinkets. This home is MEGA packed with decades of high end purchases and an assortment of jewelry, Coins, military, Boy Scout, WW1 & WW2 items, old postcards and photos, lots of Ephemera, tons of great books, local art by artists like Eric Fitzpatrick and more. A mixture of mid century and vintage/antique furniture will be available including many pieces of Vintage Ranch Oak Furniture. There are a lot of high end & unusual curio items (Oddities) from Nepal & other cultures. Plenty of vintage to new kitchenware, dishware, glassware, linens, utensils, cookbooks, household items, tools (garage full), and outdoor furniture. This is a packed home with a lot to offer! Lots of unsearched hiding places you will find treasures in!
Hunting Hills! Look For Signs On Starkey Rd off electric Rd – Address Released here day before sale:
CLICK HERE FOR FULL LISTING AND LOCATION
TONS OF HIGH END & VINTAGE KITCHEN ITEMS, ORVIS CLOTHES (MENS AND WOMENS) Vintage Clothing.
Sale Date/Discounts 
Friday 2/7  – Full Price Saturday 2/8 – 20% Off Sunday 2/9 – 50% Off 
(Sunday After 4PM We Will Offer Further Discounts On What Is Left!)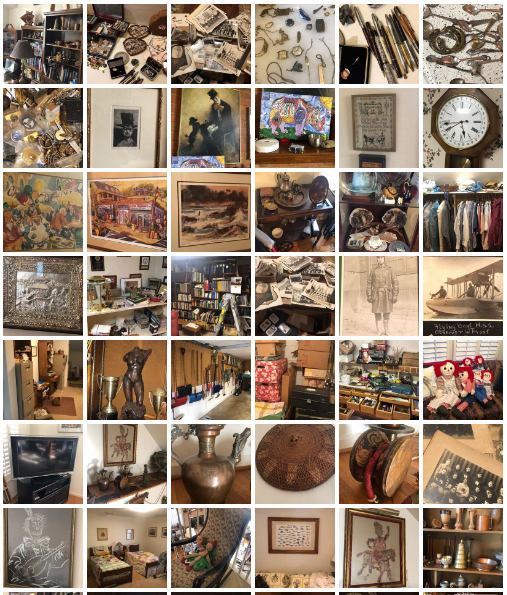 Some items in the sale include:
High End Home Decor & Furniture
Lots of Ranch Oak Furniture
Military items ww1/ww2 – Boy Scout Memorabilia
Old Coins (silver)
Vintage Postcards/Photos/Old Paper
Vintage to New jewelry (Sterling, Artisan, Nepal, Brighton and more)
Pocket Watches – Vintage Watches – Cufflinks – Service Pins – vtg Pens
Vintage Kitchen and Dining Linens
Vintage Christmas decorations – Some really good holiday stuff!
Lots of great furniture including marble top cast iron base table, Vintage and antique lamps, Filing cabinets, bedroom suits, Dressers, End tables,Antique dry sink, Drop leaf table, Grandfather clock, Vintage Clocks, iron outdoor furniture
Exercise equipment home gym there is A Nordic track – Schwinn sit down spin bike .
Civil War Books – medical books – Vintage books  – antique books
2 nice recent purchased wheel chairs
stained glass
Pewter Figurines
Pewter Clown Collection – lots of high end clown art and decor
Vintage Raggedy Ann and Andy dolls
Tons and Tons and Tons more not photographed or listed here! CLICK HERE FOR FULL LISTING AND LOCATION
fishing poles – tools – household items
pots pans cooking items
recipes and cookbooks
luggage and travel bags
This is a BIG SALE in a multi level large home with garage and lot's Of accumulation! Be prepared to hunt for treasures!
CLICK HERE FOR FULL LISTING AND LOCATION